As the busy holiday season continues, I'm determined to not forget a few #selfcare tips (remember
#MyRelaxing5
?). Today's installment: 3 ways to have some team-building office fun!
1. Get outside & take a walk!
This one is super easy to implement. Find a buddy, and take a walk together! This gives you the chance to get some fresh air, to get some exercise, and to get to know each other in a little bit less formal setting. In Colorado, we are lucky enough to have sunny weather most days, but the temperature does vary quite a bit. Even when it's cold, put on your jackets/hats/gloves, and get out there!
I know it feels hard to give up even 10-15 minutes of plan time (or work time), but I have found that I am so much more productive after giving my mind & body a break, and I wouldn't trade the conversations and relationships for anything!
2. Stick Together
This activity was introduced to me by
@zmidler
, and has made an appearance in several school libraries! The basic idea is like paint-by-number, except with stickers - each little square (or pixel, so to speak) has a letter in it, and, using the key, you can put the thousands of different-colored little square stickers in the correct place. My favorite is pulling out the picture of the final product so you have to discover it as you go :-).
The fun of this activity is that it brings people together to work on something collaboratively! It is a great brain break that can last for 30 seconds or 10 minutes (just depending on how many stickers you add to the final product). And lots of people can be working on it at once!
I am not selling the product in any way, but if you want to find out more, visit
www.letsticktogether.com
. #adultslikestickerstoo
3. Coloring Tablecloths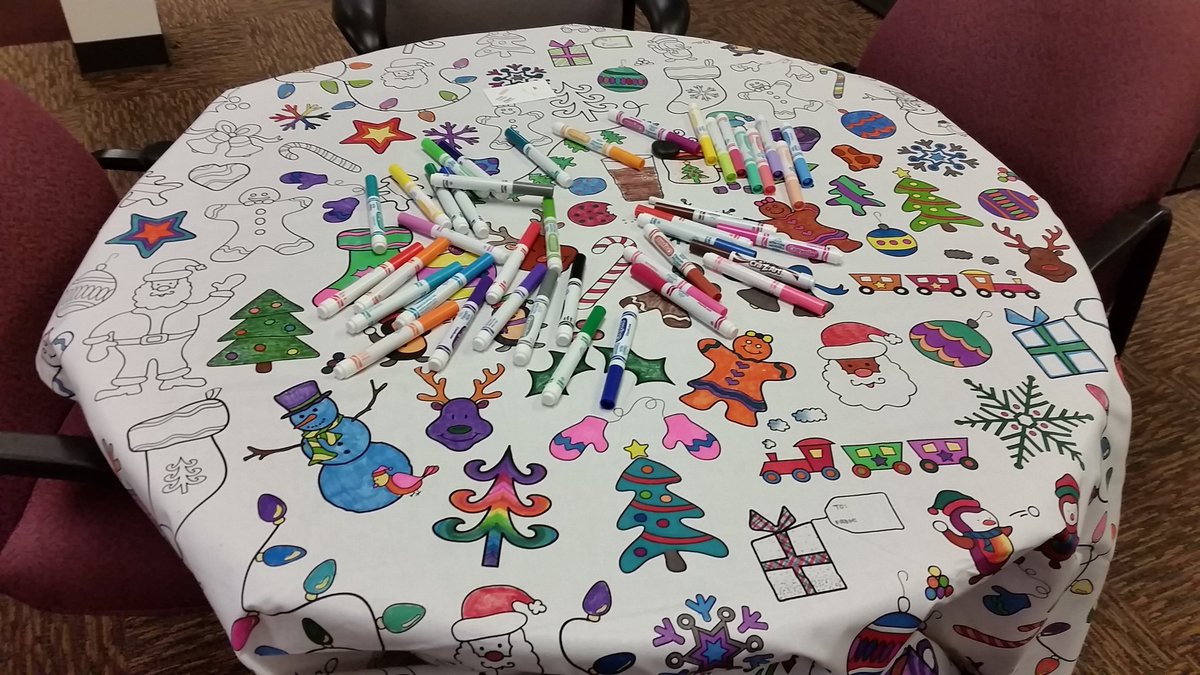 This is another one I learned about from
@zmidler
- clearly, I like her ideas! Put out a coloring tablecloth + a bunch of markers, and see what happens! Coloring is a great brain break, and a chance to express your creativity! Just like StickTogether, several people can be working on it at once, and we've noticed that when one person sits down to color, it often draws more people in to take a quick 5-10 minute brain break, and builds community that way!
It's been interesting to see the progression of our coloring, as well. It started with being very concrete, and coloring in the lines, but as we get close to finishing it (and find ourselves coloring the same pictures at a different part of the tablecloth), people are branching out and being more creative in the way they use the markers to fill the space!
The bonus part of this is - if you use washable markers, you can wash it once you are done and start over again next year! Again, I am not selling anything, but if you want to find out more, here's the link:
thecoloringtable.com
. #adultscolortoo
As the resident director of Fine & Performing Arts, I love creative ways to bring people together - adults or students! What ideas do you have? Please share in the comments!